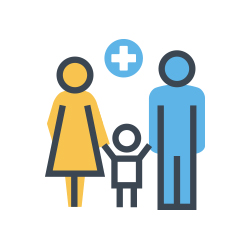 Family Medicine is a specialized medical field that provides continuous, comprehensive and individualized personal care to patients and their families whether they are healthy or not. It provides total personal care not only to treat acute or chronic diseases but also to promote healthy lifestyle and disease prevention.
In particular, it emphasizes health promotion through therapeutic lifestyle changes such as smoking cessation, alcohol abstinence, regular exercise, diet modification, obesity control and stress management. In addition, primary care physicians help to prevent infectious diseases through vaccination, manage chronic diseases such as diabetes and hypertension and screen for cancer through regular health check-ups.
Family Medicine also serves as a Health Behavior Clinic for smoking cessation, exercise and nutritional consultation; Cancer Survivor Clinic for health promotion of patients who have or had cancer; Optimal Aging Clinic for preparing healthy aging; and a Green Clinic for protecting against toxic environmental substances. This department It is comprised of 14 professors including Dr. Jin Ho Park as a chief director, 5 fellowship physicians and over 60 residents.
1. Medical field (Specialty)
- Primary care physician: the first doctor to assess and treat various symptoms and diseases
- Lifestyle management: Smoking cessation, Alcohol abstinence, Nutrition, Weight management
- Preventive care: Early detection of cancer and cardiovascular diseases, Vaccinations
- Chronic disease prevention and management: Hypertension, Diabetes, Dyslipidemia, Osteoporosis,
Osteoarthritis, etc.
- Continuous care after serious disease treatment: Health care for cancer survivors and cardiovascular
disease patients
- Lifetime health management: Health evaluation and management of the elderly
- Chronic pain management: Headache, chronic pain of musculoskeletal origin
- Mental health management: Stress, Anxiety disorder, depressive disorder
2. Precautions before treatment
- Patient on his first visit
* The patient should visit the clinic himself.
* Patient with National Health Insurance does not need a referral form.
* Medical care patients are required to bring a request letter from a secondary hospital.
* Please use the automatic CD register on the 2nd floor of the Children's Annex for outside images on CD.
* Bringing the latest test results from the 1st and 2nd medical institutions can help with patient evaluation and
treatment.