Because your health matters
Seoul National University Hospital(SNUH), the leading health care facility in Korea, has now extended its services and programs in response to an increase in demand from international residents and tourists in Korea.
Its services and programs include inpatient, outpatient and emergency care from a comprehensive range of advanced specialty fields.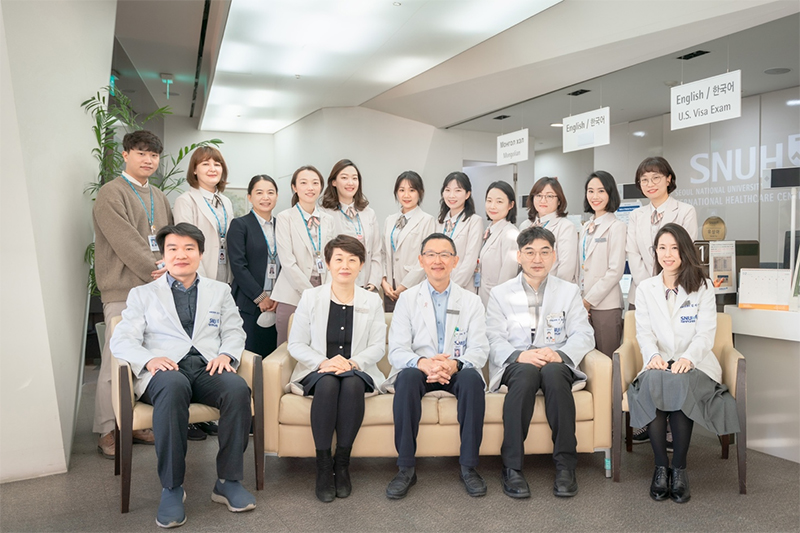 The Seoul National University Hospital International Healthcare Center (IHC) was founded on June 1st, 1999 with the aim of increasing convenience and enhancing the efficiency of medical services for international patients.
We work to help international patients with medical appointments, payments, examinations, and prescribed medications.
We also offer a 24-hour emergency contact service to respond promptly to emergency situations. At the IHC, we provide consistent medical care of chronic adult disease, medical examination, visa medical examination, cancer screening, children/adult vaccination, travel vaccination.
Languages supported at SNUH IHC include English, Chinese, Mongolian, Russian and Arabic.
Why (Difference)
Quick service for customers with busy schedules
Multidisciplinary approach for outstanding medical service
Knowledgeable and respectful of various cultures and religions
Referrals reviewed by doctors
Multilingual interpretation service for English, Chinese, Mongolian, Russian and Arabic
What We Have (Excellency)
More than 30,000 patients from over 80 countries per year
Helpful and attentive staff
Cashless billing service / coordination with national embassies and international insurance companies
Timely responses to requests from overseas patients, as well as:

Consistent medical care for customers with chronic diseases
Medical examinations and screening
Vaccinations and international travel consultations
How to access (Easy Accessibility)
Consultation process
ONE-STOP SERVICE

(Guidance & Interpretation)
1. Appointment

Phone
E-mail
Office visit or fax

2. Consultation

Step1: consultation with IHC specialist
Step2: consultation with a medical specialist

3. Payment :English receipt avail- able upon request
4. Examinations,Medical Treatment,Prescription: You can purchase your medication at either SNUH or other local pharmacies
5. Returning Homeor Follow-Up
Referral process from abroad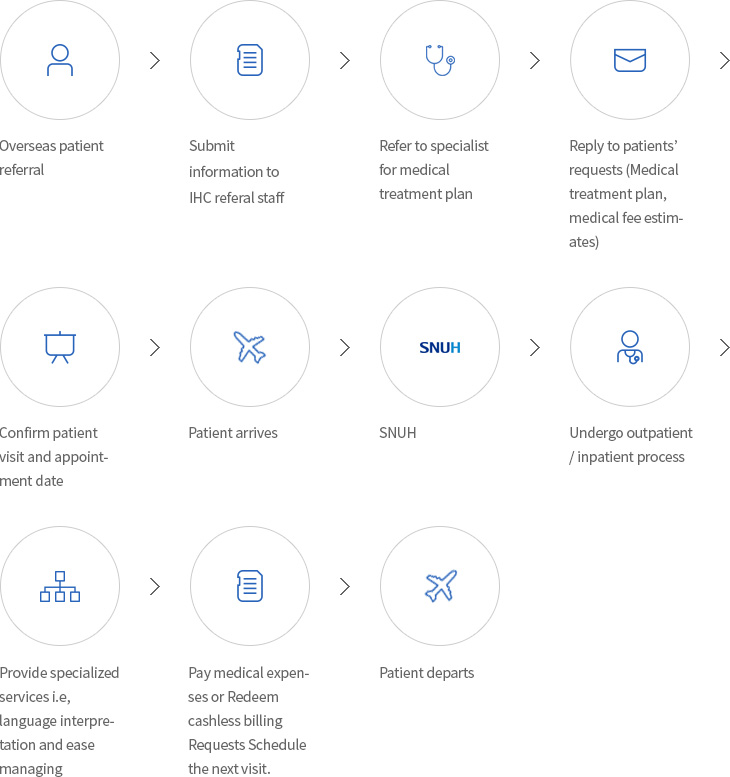 Overseas patient referral
Submit information to IHC referal staff
Refer to specialist for medical treatment plan
Reply to patients' requests (Medical treatment plan, medical fee estim-ates)
Confirm patient visit and appoint-ment date
Patient arrives
SNUH
Undergo outpatient/ inpatient process
Provide specialized services i.e, language interpre-tation and ease managing
Pay medical expen-ses or Redeem cashless billing Requests Schedulethe next visit.
Patient departs
If you have any questions, please feel free to contact us. Thank you.
Mon-Fri 9:00 AM ~ 5:30 PM
Tel

+82-2-2072-0505

Fax

+82-2-2072-0785