For Insurance holders
We have direct billing contract with (In alphabetical order)

| | |
| --- | --- |
| | AETNA international |
| | CELTA Assistance |
| | Cigna international |
| | Daman (Inpatient only) |
| | Foreign Service Benefit Plan (FSBP) |
| | Metlife CHINA |
| | MSH CHINA |
| | Prestige International |
| | United Healthcare Global (UHG) |
* However, National Health Insurance holders are excluded.

If you are not insured by above…
Don't worry, we have third party companies that handle direct billing for you.
Let your insurance company contact the following third party company.
Global Assistance Partners (GAP)
International SOS
AA+ International
If you are a member of US military
We have contract with Tricare.
Tricare Prime : For those who are in active duty.
Tricare Select : For those who are retired and reserved select.
※Please note for Tricare Prime patients, you can't use Tricare if you have Other Health Insurance (OHI).
You need an authorization sent to us by International SOS to be insured. If we don't get an authorization you have to pay for yourself and get a reimbursement.
For Embassy patients
We have direct billing contract with (In alphabetical order)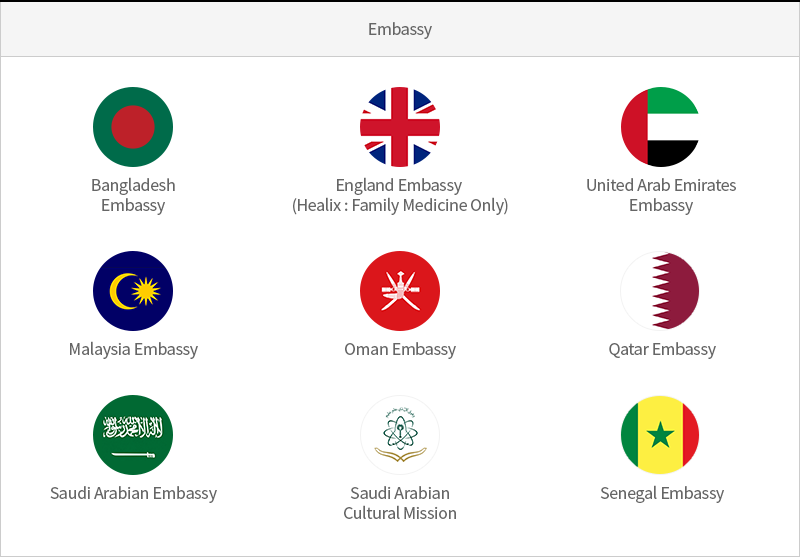 For Government organizations
We have direct billing contract with
HAAD (HEALTH AUTHORITY ABU DHABI) in UAE
UAE Military
Billing Process for insurance holders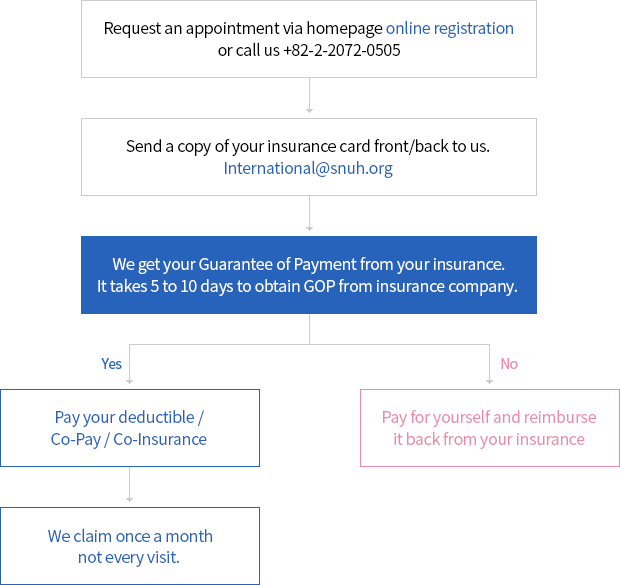 1. Request an appointment via homapage online registration or call us at +82-2-2072-0505 > 2. Send a copy of your insurance card front/back to us. International@snuh.org > 3. We get your Guarantee of Payment from your insurance. It takes 5 to 10 days to obtain GOP from insurance company. > 4-1.Yes : Pay your deductible / Co-Pay / Co-Insurance > 5. We claim once a month not every visit, 4-2.No : Pay for yourself and reimburse it back from your insurance
※If your insurance company doesn't pay us , We will contact you for outstanding payment.
For foreign patients with Korean National Health Insurance (NHI)
- The clients covered by the Korean National Health Insurance Program (NHI) should bring a referral from
a local doctor, or else they will have to meet the Family Medicine Doctor first as per the NHI guidelines state.

- If you are a global insurance holder and also have Korean National Health Insurance, ONLY Korean National Health Insurance is applied here.
Payment method
You can pay with cash or credit card in Korean won.
Deposit
At SNUH in order to be admitted you have to pay a deposit fee. The deposit fee is an estimate of your treatment. Each patient's hospital charges are individual. The actual charges could be more or less at the completion of the patient's treatment.
Medication
Medications prescribed from the outpatient clinic are usually not included in the outpatient bill. Thus,
you should buy prescribed medicine at the pharmacy outside of the hospital.