Seoul National University Hospital held groundbreaking ceremony for Nexon Children's Integrated Care Center
Hit : 1,821
Date : 2022-08-26
- The first step to building Korea's first independent children's respite care facility
- 1 basement floor, 4 floors above ground, 16 patient wards planned. Expected to open in 2023
- A total of 12.5 billion won is being directed to the project ... to provide short-term hospitalization and care for severely ill pediatric patients 14 days a year each
<#> Minsu and Jun-Ah, patients who need 24-hour care
Minsu (pseudonym, 10 months old) was diagnosed with hypoxic-ischemic encephalopathy in an accident during his delivery and was discharged from the hospital at 5 months of age and is living in his home. Minsu's mother must drain his phlegm and saliva from the tracheostomy tube attached to his neck every 3 to 4 minutes, and she can't sleep well because she's paying attention to the alarm on the meter to make sure his oxygen level doesn't drop even at night.
Jun-Ah (pseudonym, 10 years old) suffered brain damage as a result of pneumonia as a newborn baby, and there is nothing she can do other than breathe and maintain a heartbeat. Jun-Ah's mother is in her 10th year (since Jun-Ah's illness arose) of only being able to take a break and see to everything she needs to do in the short time when her husband is free. When Jun-Ah's mother had to be hospitalized after a car accident, there was no one free to look after Jun-Ah, so she had no choice but to take medicine instead of getting the treatment she needed.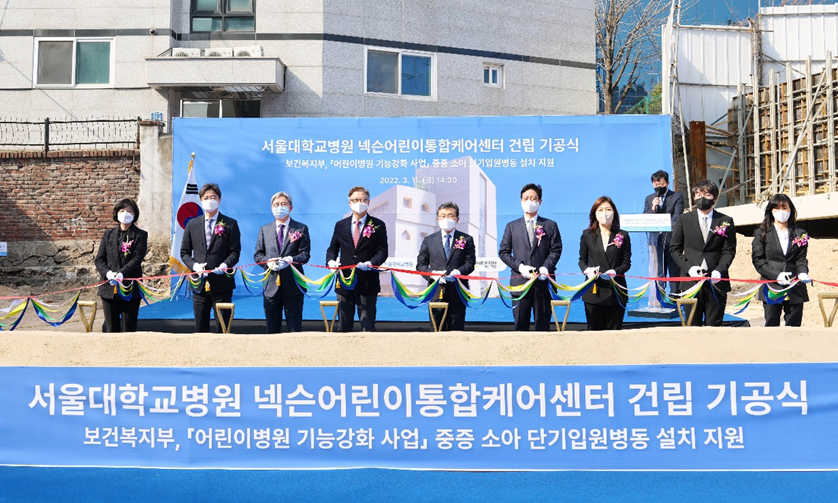 [Photo] Seoul National University Hospital and Nexon Foundation officials are participating in the tape cutting ceremony.
'Seoul National University Hospital Nexon Children's Integrated Care Center', being built as Korea's first independent children's short-term care facility that provides comprehensive medical and care services to pediatric patients who need 24-hour care due to serious diseases and their families, will open in March 2023.
On the 11th of March, Seoul National University Hospital held a groundbreaking ceremony for the 'Seoul National University Hospital Nexon Children's Integrated Care Center', which can provide short-term hospitalization and care treatment for severely pediatric patients.
The ceremony was attended by Minister of Health and Welfare Kwon Deok-Cheol, Seoul National University Hospital President Kim Yon Su, Nexon Foundation Chairman Kim Jung Wook, NXC CEO Lee Jae Gyo, Nexon Korea CEO Lee Jung Heon, and Nexon Space CEO Ji Jun Sook.
'Seoul National University Hospital Nexon Children's Integrated Care Center' will be built in Wonnam-dong, Jongro-gu, near Seoul National University Hospital, with a total of KRW 12.5 billion being utilized towards the project , including KRW 2.5 billion in government support and KRW 10 billion in donations from the Nexon Foundation. The center is being built with one basement floor and four above-ground floors (a total floor area of 997㎡).
As part of the Ministry of Health and Welfare's 「Children's Hospital Function Reinforcement Project」, a total of 16 bed wards will be installed in the center as short-term inpatient wards for severely ill children. It is possible to provide short-term hospitalization and care for 1,050 severe pediatric patients per year. It will be used for a maximum of 6 nights and 7 days per hospitalization; two hospitalizations can be provided, up to 14 days per year.
In addition to the 24-hour medical care facility where doctors are stationed, there will be a variety of spaces for patients and their families to receive treatment and rest, such as a play program facility and family counselling facility.
The number of critically ill pediatric patients who depend on a ventilator and other machines and require 24-hour nursing care is estimated at 200 registered patients at Seoul National University Hospital, and about 3,000 nationwide.
However, until now, there have been no short-term care facilities for children in Korea, so the burden of nursing and caring for them has been the sole responsibility of families. Such families desperately needs time for mental and physical recovery by entrusting their sick child to a reliable facility, even for just a few days.
Through the establishment of the center, patients and their families who are experiencing many difficulties due to the absence of medical care facilities can have an opportunity to relax and recharge. It is expected that this will ultimately enable patients and their families to maintain their continuous care and treatment.
Minister of Health and Welfare Kwon Deok-Cheol emphasized, "Creating an environment in which children can grow up safely and healthy is the nation's natural responsibility and the most important investment for the future. We hope that this will become a new treatment and care model for children, and the Ministry of Health and Welfare will spare no effort to provide the necessary support."
Seoul National University Hospital Director Kim Yon Su said, "Through the operation of the center, Seoul National University Hospital will continue to do its best to further strengthen holistic treatment and services for severely ill children and adolescents and expand the horizon of public health." I hope it will be small hope for the life of the families of these children."
Nexon Foundation Chairman Kim Jung Wook said, "We hope that the establishment of Korea's first independent short-term care facility for children will serve as a starting point for the revitalization for the facilities that provide medical care to sick children. Following our ethos that society should have a profound interest in supporting the future of our children at its core, Nexon will continue to take the lead in funding the rehabilitation children and expansion of medical facilities, and will continue to provide donations to such projects in order to contribute to society."