Transarterial Radioembolization proven as effective as resectional surgery for large liver cancer
Hit : 1,618
Date : 2022-07-22
- Seoul National University Hospital has found that the treatment effect of radioembolization are… Side effects↓& Hospitalization period↓
- Radioembolization is expected to be used as an alternative HCC treatment for patients who are difficult to operate on due to underlying disease
The results of a study that analyzed the therapeutic effects and side effects of transarterial radioembolization (TARE) with resection for patients with large (≥5 cm) single nodular hepatocellular carcinoma (HCC) were published. It was found that the treatment effect was similar to that of liver resection, which is recognized as the standard for liver cancer treatment, but radioembolization had fewer side effects. It is expected to be an effective and safe treatment alternative for patients who cannot undergo surgery.
Liver cancer is the 7th most common cancer in Korea. According to the National Cancer Information Center, there were 15,605 new cases of liver cancer in 2019, accounting for 6.1% of the total cancer incidence. The 5-year relative survival rate of liver cancer patients is 37.7%, which is only half of the overall cancer survival rate of 70.7%. 2 out of 3 liver cancer patients die within 5 years.
Hepatocellular Carcinoma (HCC) with a size larger than 5 cm has a particularly poor prognosis. Even after liver resection, a standard treatment, recurrence of the cancer occurs in about 30% of patients within 2 years. In addition, the size of the liver decreases after surgery, and there is a high risk of deterioration of liver function.
For this reason, 'carotid artery chemoembolization' was mainly performed as an alternative treatment for patients who were unable to undergo resectional surgery due to underlying diseases. This treatment is accompanied by side effects such as severe fever and abdominal pain in proportion to the size of cancer. In recent years, 'transarterial radioembolization (TARE)', which has fewer side effects and is more effective than carotid chemoembolization, is attracting attention as an alternative treatment for liver resection.
Transarterial radioembolization (TARE) is a method of treating cancer by administering microspheres loaded with radioactive isotope yttrium-90 to a target lesion via the hepatic artery to generate radiation from inside the lesion.
Seoul National University Hospital Gastroenterology Department Professor Lee Jeong-Hoon's team (Samsung Seoul Hospital Prof Sinn Dong Hyun, Seoul National University Bundang Hospital Prof Kim Jihye, Seoul National University Hospital Kim Ju Yeon Clinical Fellow) divided the large single nodular HCC patients into a TARE group (57 patients) and liver resection group (500 patients). Then, they compared and analyzed long-term outcomes of treatment effects and side effects experienced by the two groups.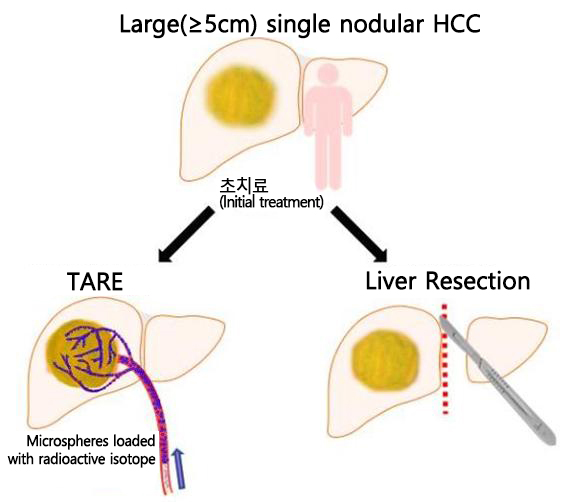 [Figure 1] Classification of research subjects
The research team statistically corrected factors such as age (old age), comorbidity of systemic disease, lesion size, cases of invasion of both left and right lobes of the liver, and portal vein invasion, considering any disadvantageous conditions present in the TARE group before treatment.
In their findings, there was no great statistical difference between the two groups in terms of overall survival and relapse period. At 38.4 months after the first treatment, the mortality rates in the TARE group and resection group were 21.1% and 20.4%, respectively. In addition, the cumulative recurrence rates for 2 years after the first treatment were 50.0% and 58.3%, respectively.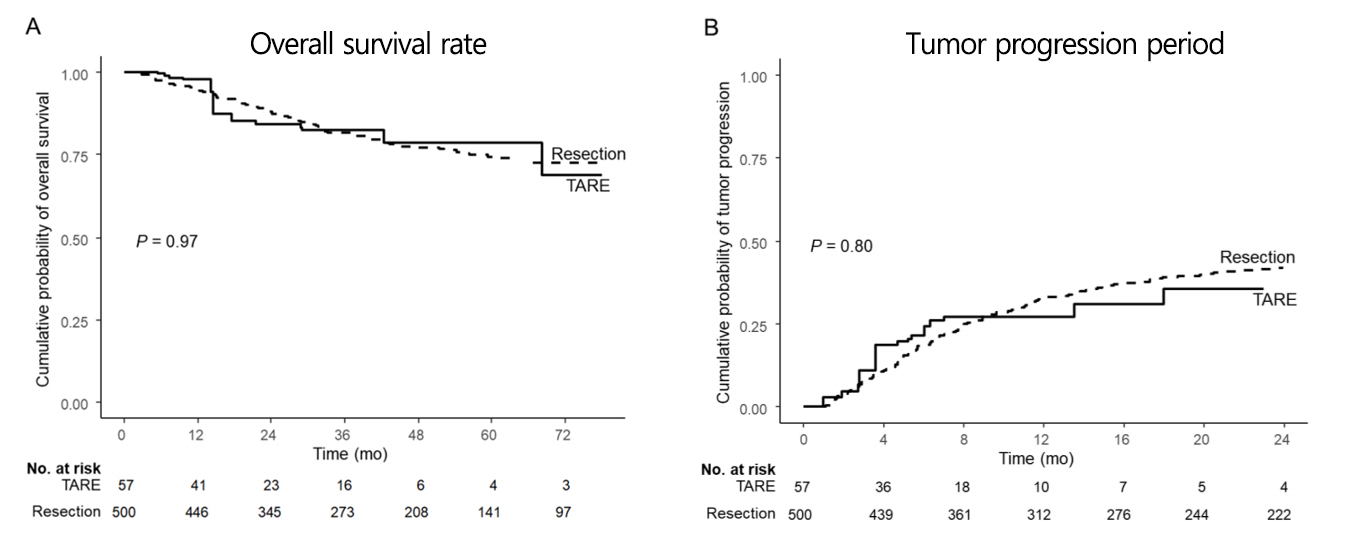 [Figure] Cumulative probability of (A) Overall survival, (B) Tumor progression: comparison between TARE and Resection group
On the other hand, there was a difference in the degree of side effects after treatment. The proportion of patients with side effects such as abdominal pain and fever were 43.9% in the TARE group and 100% in the resection group.
The length of hospitalization was 3 days in TARE group and 12 days in resection group, a significant difference.
The research team emphasized that this investigation is the first in the world to prove that radioembolization shows similar therapeutic results in comparison to liver resection for large single nodular HCC, which is one of the most difficult liver cancer treatments.
Professor Lee Jeong-Hoon (Principal Investigator) said, "Through this study, it is encouraging to find out that radioembolization (TARE) is a sufficiently effective and safe treatment for large-sized liver cancer compared to liver resection, which is recommended in domestic and international medical guidelines."
Professor Kim Jihye (first author) said, "The curative treatment for large liver cancer is liver resection. But especially when accounting for the often decreased functionality of the remaining liver and the possibility of recurrence, surgery is often difficult and liver transplantation is a limited treatment. As a treatment, radioembolization TARE could be a hopeful new method."
Professor Kim Yoon Jun (Director of Liver Cancer Center) said, "Liver cancer has a high recurrence rate, and there are many patients with chronic hepatitis or cirrhosis, which is difficult to cure, so it is necessary to treat with consideration of systemic conditions and side effects." Then he evaluated, "Based on the results of this study, radioembolization (TARE) with fewer side effects may be regarded preferentially in the treatment of large liver cancer."
This research was published in the online edition of 'The Journal of Nuclear Medicine', the world's most prestigious academic journal in the field of nuclear medicine.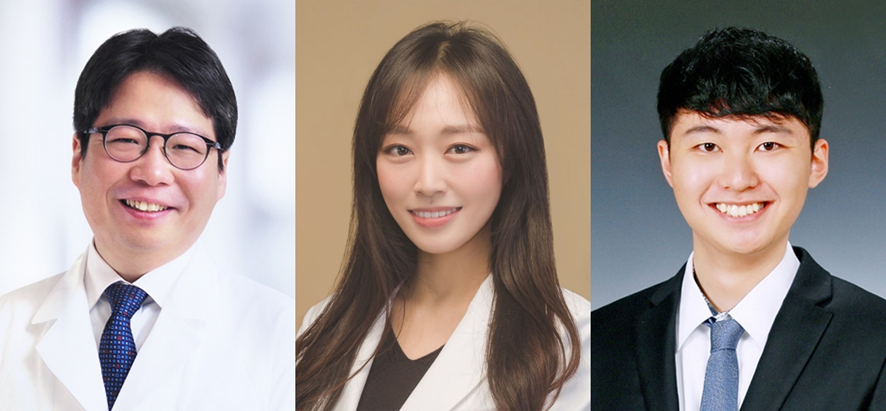 [Image] From left: Gastroenterology department, Prof Lee Jeong-Hoon, Prof Kim Jihye, and Clinical fellow Kim Ju Yeon