Seoul National University Hospital opens outpatient department of clinical genomic medicine
Hit : 779
Date : 2022-03-18
- Implementation plan of precision medicine for cancer, rare disease, and chronic disease based on genomic medicine and big data
Recently, there has been a paradigm shift in medicine to personalized precision medicine based on genome analysis technology and genome information. To take the lead in responding to these changes, Seoul National University Hospital established Clinical Genomic Medicine in March and has been operating temporary outpatient clinics since June 2021.
Seoul National University Hospital held an opening ceremony on the 20th and announced on the 1st that it will start full-scale outpatient treatment of Clinical Genomic Medicine from November 2021. The outpatient clinic was opened on the 3rd basement floor of the Daehan Outpatient Clinic center.
The Clinical Genomic Medicine department was established by integrating the existing Precision Medical Center and the Rare Disease Center. The medical staff consisted of professors from the department of Endocrinology and Metabolism, Pediatrics, Neurology, and Diagnostic Laboratory Medicine. The Department of Clinical Genomic Medicine plans to implement genomic test-related treatment more systematically, which before was sporadically conducted in various departments.
At the Clinical Genomic Medicine outpatient clinic, ▲Undiagnosed rare disease clinic (children and adults) ▲Preimplantation/prenatal genetic testing clinic ▲Family endocrine and metabolic disease clinic ▲Genetic counseling clinic ▲Family cancer clinic, etc. will be operated.
The Undiagnosed Rare Disease Clinic plans to accurately diagnose and treat patients by using multidisciplinary treatment and the latest testing methods and research techniques.
The preimplantation/prenatal genetic testing clinic plans to provide a one-stop treatment system, including for preimplantation/prenatal genetic testing, for patients and parents with rare hereditary diseases who wish to have healthy children.
The Familial Endocrine and Metabolic Disease Clinic will provide genetic testing and customized treatment for patients with endocrine and metabolic diseases with family history, such as familial diabetes and familial hyperlipidemia.
The genetic counselling clinic plans to conduct detailed genetic counselling for patients and their families after a genetic diagnosis.
In addition, by opening a familial cancer clinic, we plan to conduct active monitoring through counselling and education for patients with familial cancer syndrome and their families caused by genetic abnormalities.
By establishing the Department of Clinical Genomic Medicine, Seoul National University Hospital is expected to accelerate the implementation of precision medicine, a cutting-edge medical technology that diagnoses diseases based on individual characteristics and genetic information and provides optimal treatment tailored to each patient.
Park Kyong Soo, a head of the Clinical Genomic Medicine Department, stated, "The Department of Clinical Genomic Medicine will provide personalized treatment for areas that have been neglected or insufficiently provided for within the existing medical system." "Based on genomic medicine and big data, we will establish an implementation plan for precision medicine in a wide range of fields ranging from general diseases to chronic diseases."
SNUH president Kim Yon Su said, "With the full-fledged opening of the Department of Clinical Genomic Medicine, Seoul National University Hospital is conducting various studies such as cancer genomics research, rare disease diagnosis and mechanism research, gene therapy, and new drug development research. Through this, SNUH will lead the future of advanced medicine by nurturing medical staff with expertise in genomics."
You can visit the Department of Clinical Genomics with a medical request (request for medical care) issued by a local hospital or clinic or make a reservation through the Reservation Center (1588-5700).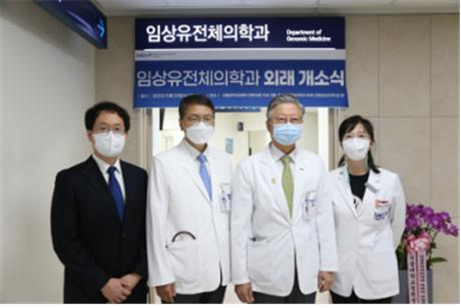 [Picture] From left: Dr Moon Jangsup (a chief medical officer of the Clinical Genomic Medicine Department), Dr Park Kyong Soo (a head of the Clinical Genomic Medicine Department), Dr Kim Yon-Su (SNUH president & CEO), and Dr Chae Jong-Hee (a director of Precision Medicine and Rare Disease Center)