Hepatitis B: the sooner the antiviral treatment, the better
Hit : 850
Date : 2022-02-24
- If hepatitis B Envelope Antigen (HBeAg) is positive when treated, the risk of liver cancer goes down↓.
- Large-scale data analysis of 9,862 people from 27 domestic and foreign institutions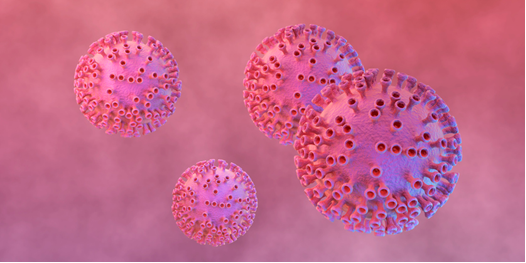 [Figure 1] Hepatitis B Virus
When the hepatitis B virus enters the body, an immune response occurs. Inflammation of the liver resulting from this process is referred to as hepatitis B. In severe cases, it leads to cirrhosis and liver cancer. But the risk of occurrence can be reduced with appropriate antiviral treatment.
Recently, a study result showed that the risk of developing liver cancer is lower when antiviral treatment for hepatitis B is started early.
The team under Professor Lee Jeong-Hoon of Internal Medicine at Seoul National University Hospital (Professor Jang Hee Joon of Boramae Hospital and Professor Yoon Jun-Sik of Busan Paik Hospital) found that starting antiviral treatment when the hepatitis B virus envelope antigen (HBeAg) is positive is less likely to cause liver cancer than starting after the loss of envelope antigen. The results of a study showing lower risk were published on the 7th. However, this trend was observed only in patients who had not yet developed cirrhosis of the liver.
The research team analyzed large-scale data of 9,862 hepatitis B patients from 16 university hospitals in Korea and 11 institutions in Europe and North America. As a result, patients who started antiviral treatment when HBeAg was positive were found to have a lower risk of developing liver cancer than those who did not. For Korean patients, this risk was reduced by about 54-59%.
The study reveals the need for early antiviral treatment. There has been controversy regarding when to start the treatment, but this has not been clearly defined until now. Chronic hepatitis B largely progresses in four stages: ① immune tolerance, ② HBeAg-positive hepatitis, ③ inactive retention period, and ④ HBeAg-negative hepatitis. In general, antiviral treatment has been recommended for ② HBeAg-positive hepatitis and ④ HBeAg-negative hepatitis with a severe inflammatory reaction. However, there was no clear conclusion at which point in time the risk of developing liver cancer was lower.
Note) Hepatitis B virus progression stage
Period

Characterization

Immune Tolerance

HBeAg-positive Hepatitis

Inactive Retention period

HBeAg-netagive Hepatitis

HBeAg -/+

positive

positive

negative

negative

Hepatitis B virus

in the body

high

high

low

high

Inflammatory response

X

O

X

O
The first phase of immune tolerance involves positive HBeAg, and although there are many hepatitis B viruses in the body at this stage, there is no inflammatory reaction. The second HBeAg-positive hepatitis phase is similar to the former, but here an inflammatory reaction has begun and the liver enzyme level (ALT) rises. In the third 'inactive retention period' stage, HBeAg becomes negative and the hepatitis B virus level also decreases. In the fourth stage, 'HBeAg-negative hepatitis', HBeAg is again negative, but the hepatitis B virus numbers increase again and an inflammatory response is induced.
The research team worked with 27 domestic and foreign organizations to secure vast data and proved that prompt treatment when HBeAg is positive is more effective than treatment after HBeAg is negative.
Professor Lee Jeong-Hoon said, "In the past, there was insufficient evidence to recommend rapid treatment and there was a risk of drug resistance, so patients had to wait several months to overcome HBeAg-positive hepatitis on their own". He emphasized that "Through this study, we confirmed the need for rapid initiation of antiviral treatment for HBeAg-positive hepatitis. To this end, chronic hepatitis B patients should have regular checkups at intervals of up to 6 months so that they can start treatment sooner rather than later."
The first author, Professor Jang Hee-jun, said, "When the amount of virus in the blood is high and the liver inflammation occurs, antiviral treatment must be started immediately without delay to further lower the risk of liver cancer."
Another co-first author, Professor Jun-sik Yoon, said, "It is a problem that has not been clearly proven until now, although research on it is needed worldwide." He also said, "I am delighted that various organizations at home and abroad are working together to reach a meaningful conclusion."
This study was published in the online edition of the international academic journal Clinical Gastroenterology and Hepatology (IF=11.382).

[Picture] From left, Professor Lee Jeong-Hoon, Professor Jang Heejoon, and Professor Yoon Jun