Phthalate exposure increases the risk of autistic traits in children
Hit : 1,497
Date : 2021-10-14
Prenatal exposure → 4-year-old autism, 4-year-old- 8-year-old exposure → autism at 8-year-old
- Different susceptible time windows of phthalate exposure: exposure depends on exposure period and gender
A recent study found that exposure to phthalates, a synthetic chemical with endocrine-disrupting properties, increases the risk of autism in childhood. Results showed that phthalate exposure during pregnancy was associated with autistic characteristics in 4-year-old children. We found that exposure to phthalate between the ages of 4- 8 leads to autistic traits in 8-year-olds. In particular, the association between the duration of phthalate exposure and autism characteristics was stronger for boys than for girls.
Phthalates are common environmental chemicals found in cosmetics, food packaging, medical devices and toys. Phthalates have been reported to be associated with a variety of neurotoxic outcomes, including lower IQs, attention problems, and increased autistic traits.
Seoul National University Hospital Professor Kim Bung-Nyun's team (Hanyang University Hospital Prof Kim Inhyang, Copenhagen University Professor Lim Youn-Hee) conducted a 10-year long-term follow-up study of a total of 547 maternal and child cohorts. The results of the correlation study were announced on August 11th.
Autism spectrum disorder (ASD) is an intractable neurodevelopmental disorder that affects young children. ASD is characterized by impairment in social communication, repetitive behavior and restricted interests. The domestic prevalence rate is about 2% and is rapidly increasing.
The research team measured the levels of five phthalate metabolites using urine from mothers in the second trimester (average of 20 weeks) and children aged 4, 6, and 8 years. The social communication questionnaire (SCQ) was used to assess children's autistic behavioral characteristics at each time point. Higher SCQ scores indicate more autistic traits. The relationship between phthalate metabolites and SCQ scores was analyzed by the duration of exposure and gender.
Results showed that increased levels of phthalate metabolites during pregnancy increased SCQ scores in 4-year-old children by 7.4 to 8.5% (95% CI: 1.9%, 15.5%). However, there was no association found with it for children aged 6-8 years.
In addition, increased levels of phthalate metabolites in 4- 8-year-old children had an effect of increasing the SCQ score of 8-year-olds by 9.6% to 9.9% (95% CI: 1.3%, 18.6%).
In particular, there were observed differences in results between genders, with boys showing a stronger association between phthalate exposure and SCQ scores.

[Figure]] Summary of the association between phthalates and autistic characteristics according to exposure period: The larger the slope, the higher the influence on autistic characteristics (boys (blue line)>girls (red line)). Prenatal exposure to phthalates was associated with autistic characteristics at 4 years old, whereas childhood (4- 8 years) exposure affected autistic characteristics in school-age (8 years) children.
Professor Kim Bung-Nyun (Dept of Pediatric Psychiatry) said, "The study found that prenatal exposure to phthalates affected infants (4 years) and that exposure during childhood (4- 8 years) influenced the prevalence of autistic characteristics once the children were primary-school-aged (8 years). " he said. In addition, he stated, "This study is meaningful in that it identified the prominent problem of environmental factors, which has been identified as one of the causes of the increase in the prevalence of ASD, using a long-term follow-up cohort."
"We hope this study and its findings can now be utilised as a research reference which will help to identify biological markers that are useful in the prevention and early intervention of autism disorder," he explained. He also emphasised that "It is important to reduce phthalate exposure during both pregnancy and infancy to promote normal social development in children,".
The results of this study were published in the latest issue of Environment International.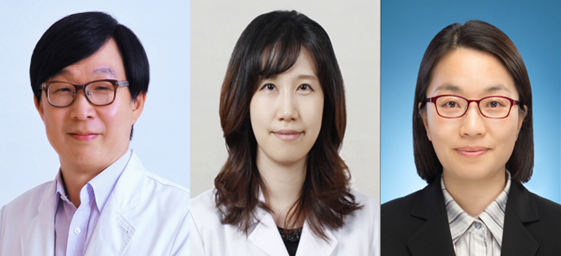 [Pictures from left] Seoul National University Hospital Prof Kim Bung-Nyun's team, Hanyang University Hospital Prof Kim Inhyang, and Copenhagen University Prof Lim Youn-Hee