Subungual Melanoma (SUM) under the nail and toenail, risk varies by location
Hit : 2,910
Date : 2021-10-13
-Seoul National University Hospital reveals clinical features of melanoma by nail and toenail's anatomical subunit
-In the case of hyponychial invasion, which affects the tip of the toenail, the prognoses are often very poor.
If the bottom of the nail is stained black, malignant melanoma, a type of skin cancer, may be suspected.
Subungual melanoma (SUM) is rare but has very poor prognosis. 5-year survival rates vary from 16 to 80%. Diagnosis is often delayed because it is difficult to distinguish from benign diseases that usually cause black pigmentation. Nevertheless, there have been no studies that have properly elucidated the occurrence, progression, and prognosis of subnail melanoma.
Seoul National University Hospital Skin Cancer Cooperative Center (Dept. of plastic surgery, dermatology, and pathology) announced a study analyzing the cancer progression and prognosis of sub-nail melanoma patients on July 20th.
The subjects of this study were 44 patients who underwent subnail melanoma surgery between 2011 and 2019 at Seoul National University Hospital. The research team divided the cancer-invaded nail location into 5 anatomical subunits of the nail anatomy: the hyponychium, nail bed, germinal matrix, dorsal roof of the proximal nail fold and the ventral floor of the proximal nail fold.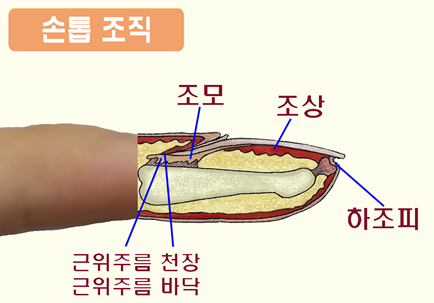 Among them, patients with hyponychium invasion were found to have a significantly higher risk of lymph node and distant metastasis. In the presence of hyponychium invasion, the 5-year survival rate dropped from 75% to 25%.
Previously, for sub-nail melanoma, the lesion site, that is, the fingers and toes, were amputated to increase the survival rate. However, in recent years, there have been many attempts to consider conservative surgery for functional and aesthetic reasons. For this reason, it can be said that it is very important to understand the invasion pattern of the lesion and to make a surgical plan.
Professor Kim Byung-Jun (Dept of plastic surgery) said, "This is the first study to reveal that hyponychial invasion is an important prognostic predictor of SUM because of its strong association with invasion depth, metastatic progression, and disease-free survival. Patients with hyponychial invasion should be subject to more meticulous evaluation, treatment, and surveillance.
This study was published in the latest issue of the 'Journal of the American Academy of Dermatology (JAAD)', the leading academic journal in the field of dermatology.