SNUH, after 4 years of treatment brings back a daily life to a Myanmar patient.
Hit : 255
Date : 2023-11-02
- A Myanmar patient with congenital pulmonary artery occlusion and ventricular septal defect was completely cured after two invited surgeries.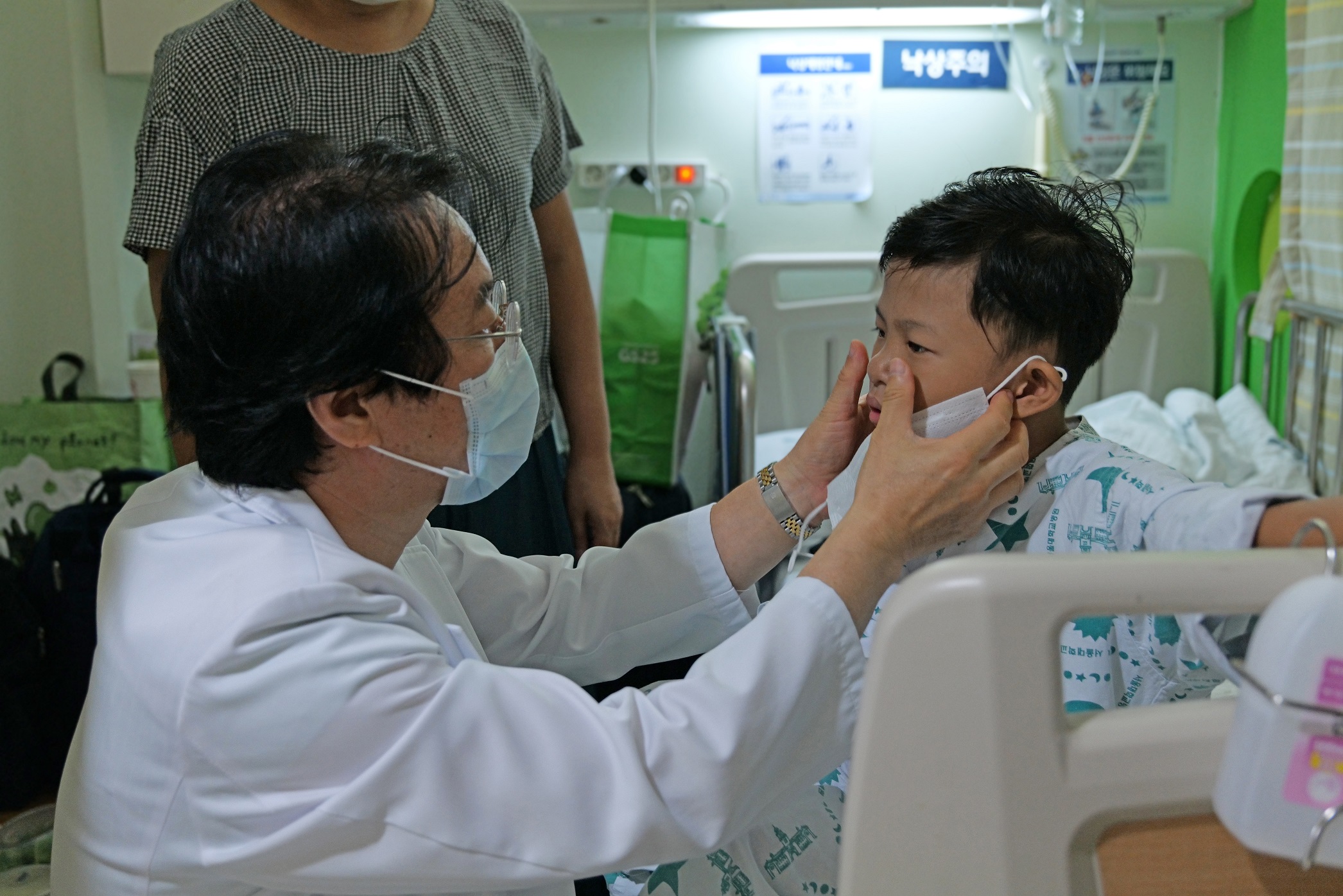 [Photo] Department of Pediatric Thoracic Surgery Professor Kim Woong-Han is examining the progress of Ko Ko's surgery.

After two procedures at Seoul National University Hospital, a Myanmar child patient born with a serious cardiac condition who had difficulties even walking returned to his usual everyday life of playing with friends.
On September 13th, Seoul National University Hospital announced that it had successfully treated a child with a congenital heart defect, who had been difficult to treat due to the local medical environment and economic problems, through two invitation surgeries in November 2019 and August 2023.
Sai Ko Ko, who was born in Myanmar in 2014, had a unique heart. There was a hole in the wall that divided the left and right ventricles (ventricular septal defect), and the pulmonary artery that connected the ventricle to the lungs was obstructed, thus there was no blood flow.
As a result, the blood supply to Ko Ko's lungs was dependent on the thin collateral blood vessels between the aorta and the pulmonary artery. As a result of the risk of hypoxia and heart failure, even walking slowly, let alone running, was difficult and dangerous for Ko Ko.
Treating Ko Ko's heart requires multiple stages of surgery, but if variables such as incorrect development of blood vessels around the lungs occur, the next stage of surgery may not be possible, so it was a complicated situation that required close monitoring of the progress and planning for the next surgery. However, the local medical environment and family circumstances made such surgery difficult to obtain, therefore Ko Ko continued to live a difficult life without receiving treatment.
Fortunately, missionary Jang Cheol-Ho heard about this story in 2019 when Ko Ko was 5 years old and connected Ko Ko with Seoul National University Hospital's foreign patient surgery project. Professor Kim Woong-Han of the Department of Pediatric Thoracic Surgery and Professor Kim Ki-Beom of the Department of Pediatrics operated on Ko Ko in November 2019 to maintain blood flow by connecting a 6mm-sized artificial conduit from the aortic branch to the pulmonary artery. This was made possible with the assistance of several organisations, including Seoul National University Hospital, the Lee Jong-Wook Centre for Global Medicine at Seoul National University College of Medicine, and the NGO The Together.
The outcome was successful. Ko Ko, who could run as fast as other children, returned to his home nation. But Ko Ko, who was growing up, still had homework to complete. He had to plan a follow-up surgery after watching the heart's development to establish the same flow of blood as a normal heart, going from the right ventricle through the pulmonary artery to the lungs.
However, because Ko Ko's cardiac condition was unknown because of the unexpected COVID-19 pandemic, the likelihood of a follow-up surgery in 2022 became remote. Medical staff were concerned and hoped there would be no variables.
Seoul National University Hospital invited Ko Ko back in August for the second surgery after the COVID-19 outbreak stopped and the skyway reopened. Following hospitalisation, cardiac CT, cardiac catheterization, and angiography were conducted, and thankfully, Ko Ko's heart was growing normally in the right direction.
Therefore, the surgery was performed on August 11th. An incision was made between the right ribs to block unnecessary aortic collateral vessels, and an incision was made in the middle of the chest to connect a 20 mm large artificial conduit with a valve between the right ventricle and the pulmonary artery. It also prevented ventricular septal defects and reduced the size of the enlarged ascending aorta.
Ko Ko was transferred from his intensive care unit to a regular hospital room on August 14, the third day following his surgery, because his recovery was so good. He was then hospitalised for almost a week, but it was judged that no further treatment was required, so he was discharged on the 22nd and returned to his home country to resume his daily life with the family.
Professor Kim Woong-Han of Department of Pediatric Thoracic Surgery said, "I am happy to be able to give Ko Ko a healthy life and hope for Ko Ko's family through a successful follow-up surgery," and "We have worked closely with all the medical staff who worked hard for Ko Ko's treatment for about four years. I would like to express my gratitude to all the staffs of Seoul National University College of Medicine and various sponsoring organisations for their hard work."
Professor Kim Ki-Beom of the Department of Pediatrics said, "I was concerned because a considerable amount of time had elapsed between the first surgery and follow-up treatment due to the coronavirus pandemic and the local situation in Myanmar, but fortunately, Ko Ko's condition was stable, and the treatment process proceeded successfully." "I hope they can go to school with their friends and run around happily."
Yim Jae-joon, Vice President for Public Affairs, said, "This invitation surgery is meaningful as it not only contributes to the international community, but also achieves Seoul National University Hospital's core value of devoting itself to humanity with the best medical services and volunteer work," adding, "Ko Ko and his family "I wish them happiness in their future."