Kim Young Tae inaugurated as the new president of SNUH "The leap forward to become the world's best future hospital"
Hit : 836
Date : 2023-09-26
- Inauguration ceremony for the 18th president Kim Yeon Soo and the 19th president Kim Young Tae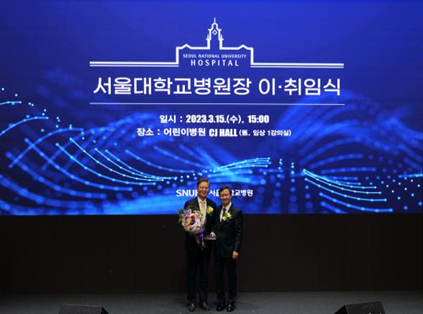 [From the left] Kim Yeon Soo, former SNUH president & CEO , and Kim Young-tae, the new SNUH president & CEO
Seoul National University Hospital's 18th President Kim Yeon-soo and 19th President Kim Young Tae held an inauguration ceremony at 3:00 pm on the March 15th at Children's Hospital CJ Hall.
The inauguration ceremony was attended by Ryu Hong Lim, president of Seoul National University (Chairman of the hospital), former hospital president, alongside 250 people from inside and outside the hospital.
Following the congratulatory speech by SNU President Ryu Hong Lim, former hospital president Kim Yeon Soo said, "Thank you to the faculty and staff who, especially during the COVID-19 crisis, have led the way in overcoming the issues at the forefront of a national calamity by concentrating all our capabilities on establishing a medical safety net for the past four years."
He added, "I am confident that the new hospital president will lead the call of the times to develop the national asset of Seoul National University Hospital into a global asset with greater energy and vision, and I will continue to play a role as a strong supporter of these efforts."
While in office, former president Kim Yeon Soo leaves a great legacy in expanding the medical infrastructure of Seoul National University Hospital; this includes the consigning operation of the National Transportation Rehabilitation Hospital, consignment contract with the National Fire Service Hospital, the opening of the Institute of Convergence Medicine and Technology, the establishment of the Department of Convergence Medicine, Department of Clinical Genomic Medicine, and Department of Critical Care Medicine, Seoul National University Baegot Hospital, Busan Gijang Cancer Center, the Comprehensive medical treatment supporting centre, and the establishment of the Nexon Children's Integrated Care Center.
In his inaugural address, the new hospital president Kim Young Tae said, "Now is the time to design and lead a new future medical service while preparing for unpredictable national calamaties." He also emphasized, "In particular, amidst the crisis of essential medical collapse and the deepening imbalance of local medical services, Seoul National University Hospital, the national central hospital, must play a pivotal role in developing and leading Korea's future medical service model to overcome such events."
Next, he said, "To boldly overcome the crisis in front of us, we will prepare a blueprint for the world's best future Seoul National University Hospital that predicts and treats diseases by combining digital health and advanced medical technology." He expressed his aspirations, saying, "Seoul National University Hospital will specialize as a 4th-tier research-oriented hospital for severe and rare incurable diseases, and will do its best to protect public health by specializing treatment for each hospital and strengthening the national public medical system."
Lastly, he added, "We will strengthen a patient-centered medical culture in which all employees respect, communicate, and cooperate with each other to provide the best medical service based on the management principles of diversity, equity, and inclusion."
The term of office for the new SUNH president & CEO Kim Young Tae is three years from March 6, 2023 to March 5, 2026.