The 400-day miracle, the heart of Sunhu beats on its own
Hit : 1,561
Date : 2023-02-27
- Congenital heart disease patient's self-heart function recovery... Discharged without heart transplant after 1 year and 6 months
- Seoul National University Children's Hospital succeeds in treating patients used external ventricular assist device "for the longest period in Korea"

[Pictures from the left] Kwon Soon-Hu, a child patient with an external ventricular assist device, and Kwon Soon-Hu, ready to be discharged
A baby who could not leave the hospital even for a moment since birth while waiting for a heart transplant due to a poor heart recovers health through an external ventricular assist device and returns home 544 days after birth.
This news is expected to provide new hope for child patients with heart disease who need a transplant but are struggling to find a suitable donor heart.
On May 27, a team led by Professor Cho Seong-Gyu of the Department of Thoracic Surgery at SNUH announced that a child patient who underwent an external ventricular assist device was discharged from the hospital in good health after maintaining the device for the longest period of time (400 days) in Korea.
After being diagnosed with cardiomyopathy and heart failure in the prenatal examination, he was born at 38 weeks and weighed 3.5 kg, but her heart function was only 17%. Heart failure persisted even after taking medication. In this case, a "heart transplant" was the only treatment, but finding a suitable donor heart for a small-weight baby seemed like trying to reach stars.
During the period of seemingly hopeless waiting, Soon-Hu's symptoms of heart failure and other symptoms worsened, making his condition worse. In the end, the medical team decided to insert an external ventricular assist device at the age of 4 months so that Soon-Hu could live and grow healthy and then receive a bigger heart transplant.
The extracorporeal ventricular assist device is a medical device that connects the pump and the left ventricle through a tube and helps supply blood through a pumping motion. An extracorporeal ventricular assist device implantation is performed for a child patient who is waiting for a transplant because an appropriate donor heart cannot be obtained.
Fortunately, Soon-Hu had no complications and his condition was stable enough for him to be transferred from the intensive care unit to the general ward one month after the operation. Six months after his surgery, medical staffs attempted to remove the assistive device, but they had to stop the removal because Soon-Hu's heart function deteriorated.
Since then, as we were waiting endlessly for a suitable heart transplant, new hope arose. Soon-Hu's heart function improved to a normal level and began developing normally. As a result of the medical staff's reattempt to remove the assistive device, the device was finally completely removed from Soon-Hu's body on the 28th of April, 400 days after his operation.
Thus, Soon-Hu's small heart has since been beating resolutely, even without the assistive device that supported him for 400 days or a new donor heart.
Soon-Hu's case of maintaining an external ventricular assist device for the longest period in Korea is a very rare instance around the world. Indeed, it is unusual that he restored heart function as a result of inserting the device while waiting for transplantation. Twenty-eight cases of external ventricular assist device implantation have been performed in Korea so far, but only three cases, including Soon-Hu, resulted in a return to normal heart function.
The medical personnel of Seoul National University Children's Hospital, including Professor Kwon Hye Won (Pediatric Thoracic Surgery) of the Pediatric Intensive Care Unit, Professor Min Jooncheol of the Inpatient Medical Center (Pediatric and Thoracic Surgery), and a nurse specializing in heart surgery patients, played a major role in making this possible. Thanks to their careful treatment and accurate judgments, they were able to remove the device at the end of its use without complications.
In addition, as the heart transplants, known as the only current treatment method to these cases, can cause complications such as infection and rejection, Soon-Hu's case provides a new option for patients by demonstrating the possibility of self-heart recovery.
Professor Cho Sungkyu of Thoracic Surgery said, "I never imagined that the external ventricular assist device could be maintained for such a long time. It is a miracle that heart function was restored, and the child even returned home safely without a transplant." He also said, "We hope that this news will provide hope to patients and caregivers who are currently waiting for a heart transplant."
He added, "The medical staff all worked hard, but I want to give the biggest applause to the mother who took care of her child without even going home for over 500 days."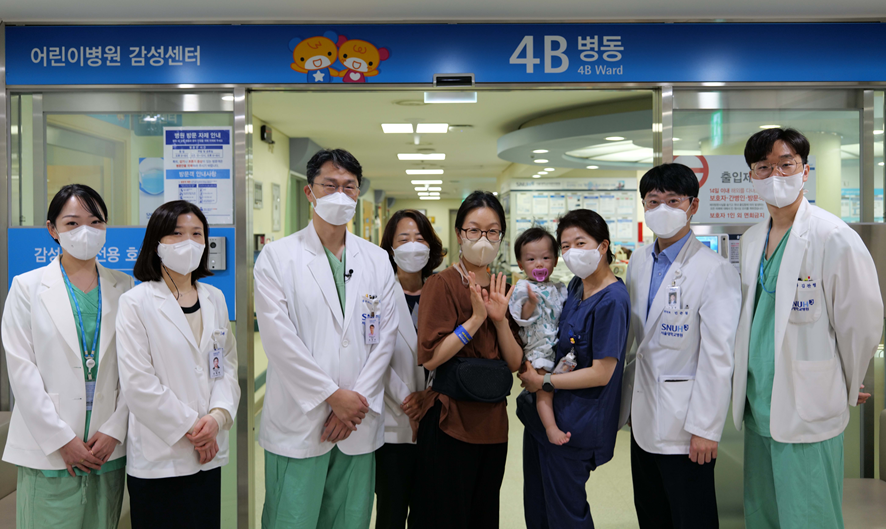 [Photo] Seoul National University Children's Hospital Medical staff and Kwon Soon-Hu's guardian (Professor Cho Sungkyu, Thoracic Surgery_3rd from left, Kwon Soon-Hu's mother_fifth from left, Kwon Soon-Hu, patient_sixth from left)