Seoul National University Hospital's first confirmation on the immune mechanism of acute glomerulonephritis
Hit : 1,972
Date : 2022-07-21
- As a result of animal experiments, VISTA expressed in kidney macrophage found to suppress inflammatory processes.
- VISTA expression also reduces the progression of fibrosis caused by glomerulonephritis
- Expected to be a basis for developing targeted treatment for acute glomerulonephritis
Recently, a study result was published that 'VISTA', expressed in kidney-resident macrophages, inhibits the overreaction of counterpart T cells, thereby preventing the aggravation of acute glomerulonephritis. VISTA, which is overexpressed in macrophages during acute glomerular injury, reduces renal tubular inflammation and prevents fibrosis. These research results are expected to serve as a basis for the development of a treatment for acute glomerulonephritis in the future.
Glomerulonephritis is an inflammatory disease caused by damage to the glomeruli in the kidneys and is accompanied by proteinuria or hematuria. This disease is mainly diagnosed through kidney biopsy, and conservative treatment such as immunosuppressive drugs or a low-salt diet, as well as blood pressure and blood sugar control, is performed. Despite these treatments, some patients may receive dialysis if renal tubule damage follows the condition and kidney fibrosis progresses.
Some acute glomerulonephritis requires high-intensity immunosuppressive treatment, with high risk of drug side effects, and poor prognosis, with patients requiring dialysis again within 1 year. To overcome these limitations in the current selection of treatment agents and to develop effective therapeutics, it is necessary to analyze the mechanism of the renal immune response above all else.
On the 26th of Jan 2022, a joint research team led by Han Seung Seok of the Department of Nephrology at SNUH and Professor Lee Dong-Sup of the Department of Medical Sciences at Seoul National University announced the results of a study from animal experiments. This study is on the role of VISTA in the mechanism of kidney inflammation and fibrosis in acute glomerulonephritis.
The researchers noted that VISTA was overexpressed in mouse kidney-resident macrophages. VISTA is a type of immune checkpoint substance and usually acts as a gateway to suppress the excessive activation of T cells in cancer tissues. However, macrophages residing in the normal kidney overexpressed VISTA regardless of cancer expression.
The research team divided the mice into ▲VISTA-deficient mice (Vsir-/-) and ▲normal mice (WT) then induced acute glomerulonephritis in them; afterwards they compared the extent of kidney damage.
As a result, both glomerular damage index (proteinuria volume, albuminuria volume) and renal tubule damage index (blood urea nitrogen, creatinine) were high in VISTA-deficient mice. In the absence of VISTA, we can observe that kidney inflammation due to glomerulonephritis is more advanced.
This means that VISTA overexpressed in kidney resident macrophages reduces inflammatory damage caused by acute glomerulonephritis. In fact, it was confirmed that kidney fibrosis caused by inflammation was also reduced by VISTA expression.
The reason is that VISTA acts as a signal in the crosstalk between macrophages and kidney-infiltrating T cells, thereby changing the metabolic and immunological properties of T cells. Changes in T cells led to changes in the cytokine expression level of the surrounding parenchymal cells. Interferon gamma (interferon-λ) and interleukin-9 (interleukin-9) were changed.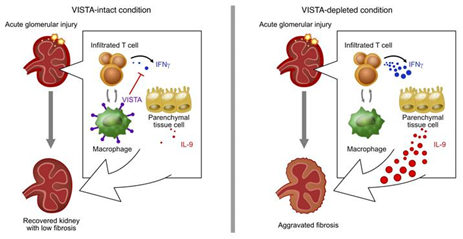 [Schematic diagram] The mechanism of renal fibrosis in acute glomerulonephritis according to the presence or absence of VISTA deficiency. In the kidney of VISTA-deficient mice, the kidney infiltrating T cells over secret interferon-gamma as a cytokine. Another cytokine, Interleukin-9, is overexpressed, leading to further fibrosis. Presented in [J Clin Invest 2022;132(1): e151189]
The research team confirmed the immune mechanism by which VISTA, which is expressed in kidney-resident macrophages, inhibits the overreaction of T cells to prevent hyper-inflammation and fibrosis after acute glomerulonephritis, for the first time.
Furthermore, the research team analyzed tissue samples collected from the kidneys of patients with acute glomerulonephritis and confirmed that the same mechanism is involved in the human kidneys as well as in mice.
While there have been many studies on glomerulonephritis patients, the research team emphasized that few studies focused on mechanisms like this one.
Professor Han Seung-Seok said, "The results of this study are significant in that we for the first time identified the role of kidney-resident macrophages and the mechanism of immune-related fibrosis in acute glomerulonephritis. Therefore, we expect our results to be used as a key basis for developing therapeutic agents that utilize or target kidney-resident macrophages."
This study was published online in the latest issue of the international scientific journal 'The Journal of Clinical Investigation'.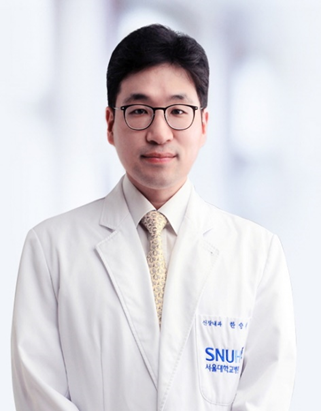 [Picture] Department of Nephrology, Professor Han Seung Seok