Patients with rheumatic disease have increased risk of COVID-19 infection
Hit : 1,460
Date : 2021-10-22
- Seoul National University Hospital research team, infection rate increased by 20%, severe risk increased by 25%
- "Anti-rheumatic drugs and low-dose steroids do not have any effect"
Rheumatism has been shown to increase the risk of contracting COVID-19 infection and being at high risk of a severe case.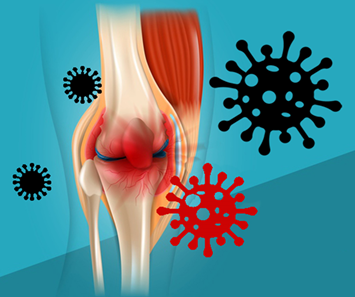 Seoul National University Hospital Yon Dong Keon research team (Sejong University Lee Seung Won, Yonsei University College of Medicine Shin Jae Il, and Gangnam CHA Medical centre Shin Youn Ho) announced the world's first study results on the 13th of August that rheumatic diseases can increase the risk of contracting COVID-19 and being at risk of a severe case of infection.
Data from the National Health Insurance Corporation were used and the study subjects were 133,609 adults aged 20 and over who were tested for COVID-19 in Korea from January to May 2020. The research team divided the group into 8,297 people with rheumatic disease and 125,312 people without the disease and compared and analyzed the infection rate and risk of severe exacerbation of COVID-19.
Rheumatic disease refers to rheumatoid arthritis, psoriatic arthritis, spondyloarthritis, systemic lupus erythematosus, Sjogren's syndrome, systemic sclerosis, polymyalgia rheumatica, dermatomyositis, polyarteritis crystalline, vasculitis, and the like.
As a result of the study, those with rheumatic diseases had an 20% increased rate of COVID-19 infection. The risk of severe exacerbation during infection increased by more than 25%.
Patients taking antirheumatic drugs (DMARDs) or steroids had no adverse effects related to COVID-19. However, in patients taking high-dose steroids of 10 mg or more per day, the infection rate of COVID-19 increased by 50%, and the risk of severe exacerbation increased by more than 70%.
The research team said that the risk of the COVID-19 virus is expected to increase as the T cells involved in rheumatic disease affect each other, and when infected, the ability to respond to new antigens decreases.
Sejong University Professor Lee Seung Won (Department of Data Science) hopes that, "This study based on big data analysis will be able to be used as objective data for the development of health care guidelines and policies for rheumatoid patients exposed to the risk of COVID-19."
In addition, Seoul National University Hospital Specialist Yon Dong Keon (Department of Pediatrics) revealed the significance of the study as "the first study to determine the relationship between rheumatic disease and COVID-19 infection." He further urged "rheumatoid patients to take special precautions, such as prevention methods, because their risk of COVID-19 increases."
The result of this research was published in the latest online issue of The Lancet Rheumatology, a worldwide prestigious academic journal.

From left to right: Prof Yon Dong Keon, Lee Seung Won, Shin Jae Il, and Shin Youn Ho