Which Drug-Eluting Stent is sufficient for patients with Myocardial Infarction?
Hit : 1,653
Date : 2021-05-26
- To prove the role of polymer in stents
- SNUH, Durable Polymer VS Biodegradable Polymer Drug-Eluting Stents in clinical research
- Durable Polymer Drug-Eluting Stents, In terms of efficacy and safety, such as mortality/re-surgery rate-no difference (or rather superiority) to Biodegradable Polymer Drug-Eluting Stents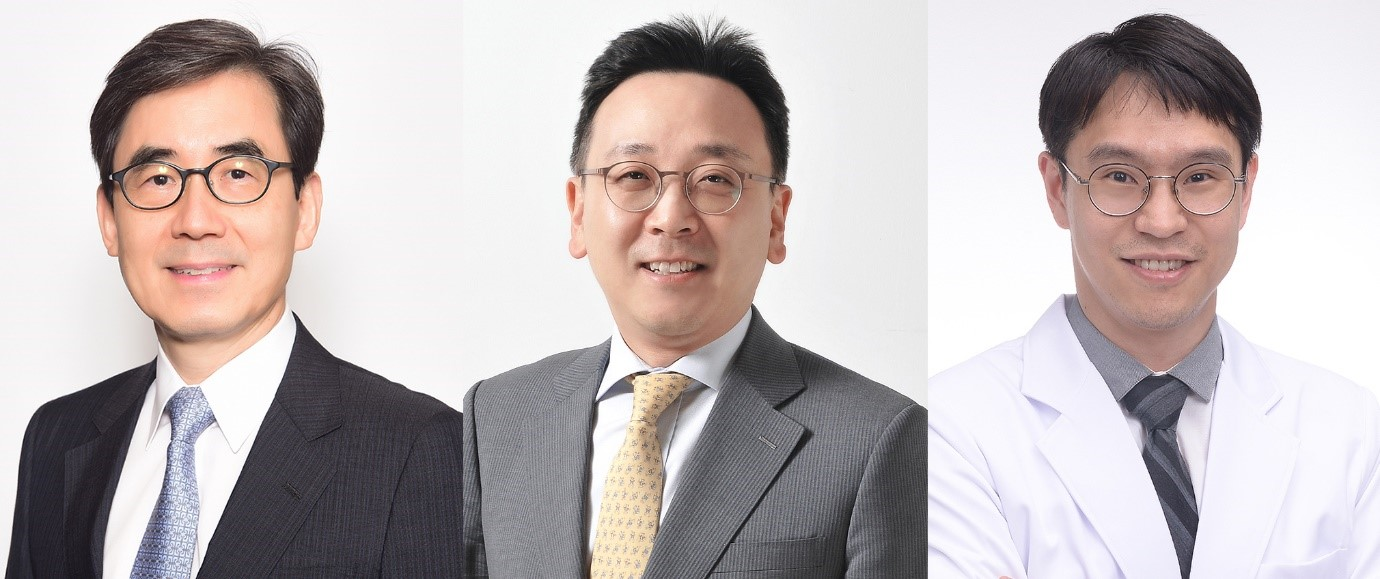 A drug-eluting method sufficient for stent treatment in patients with acute coronary artery disease was approved in a large-scale research study by a Korean research team.
Professor Kim Hyo-Soo's team (Prof Park Kyung Woo & Prof Kang Jeehoon), in the Department of Cardiology at Seoul National University Hospital, using the results of clinical studies of drug-eluting stents in patients with acute coronary syndrome (ACS), proved that there is no difference in safety and effectiveness between durable polymer drug-eluting stents (DP-DES) and biodegradable polymer drug-eluting stents (BP-DES).
This study was published in the recent issue of Circulation (IF;23), known as the most prestigious journal in the field of cardiology worldwide.
Acute coronary syndrome (ACS) occurs when the coronary artery supplying blood flow to the cardiac muscle is narrowed by atherosclerosis, acute blood clots or when blood flow disorders worsen. This is a serious disease that can lead to acute myocardial infarction or sudden death. In acute coronary syndrome (ACS), a procedure to widen the stenosis site by inserting a stent to expand the narrowed blood vessels, is a common treatment for this. In the past, re-stenosis was a big problem in the aftermath of a stent placement. In recent years, stents with their surface coated with drugs (drug-eluting stents) are mainly used to prevent re-stenosis.
Sectional structure of the
Durable Polymer Drug-Eluting Stents (DP-DES)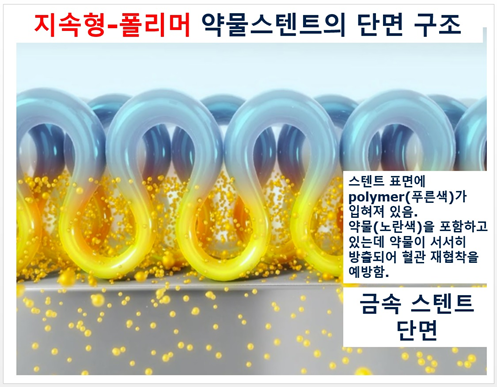 Polymer (blue) is coated on the surface of the stent.
The polymers contain drugs (yellow), which are released gradually to prevent vascular stenosis
Sectional structure of the
Biodegradable Polymer Drug- Eluting Stents (BP-DES)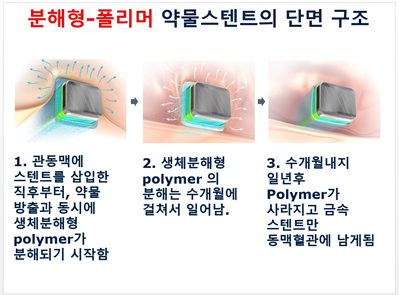 1. Immediately after inserting the stent into the coronary artery, the biodegradable polymer begins to decompose as soon as the drug is released.
2. The decomposition of biodegradable polymers has been going on for months.
3. After several months to a year, the polymer disappears, and only the metal stent remains in the arterial blood vessel.
BP-DES was introduced in Korea in 2011 after being certified in Europe. The drug released from BP-DES was persistently absorbed in the body, but the polymer remained; in contrast, in the case of DP-DES, both the polymer and the drug got gradually dissolved then totally absorbed into the body. Therefore, the use of the previous generation of DP-DES was thought to have a good outcome for safety and effectiveness.
The subjects of this study were 3,413 patients with acute coronary artery disease who had a stent placement in 40 centres over six years (DP-DES; 1,713, BP-DES; 1,700). The research team analysed each patient by dividing them into ▲primary evaluation events (a composite of all-cause death, non-fatal myocardial infarction, all kinds of revascularization) and ▲secondary evaluation events (cardiac death, target-vessel myocardial infarction, target lesion revascularization).
Our research results showed that there was no difference in the event occurrence rate between the DP-DES group (5.2%) and the BP-DES group (6.4%) at the primary evaluation point. In the event occurrence rate at the second evaluation point, events occurred less frequently in the DP-DES group (DP-DES vs BP-DES, 2.6% vs 3.9%), mostly because of a reduction in target lesion revascularization.
"This is the first large-scale clinical study comparing the drug-eluting polymer technology of coronary stents," Prof. Kim said, "and it will be very beneficial to physicians in the medical field by indicating the guidelines for selecting the best type of stents for patients."