IVI ties up with SNUH for clinical trial of Covid-19 vaccine
Hit : 265
Date : 2020-06-23
The International Vaccine Institute (IVI) and Seoul National University Hospital (SNUH) said they would jointly start a phase 1 and 2 clinical trials for Inovio's INO-4800, a Covid-19 vaccine.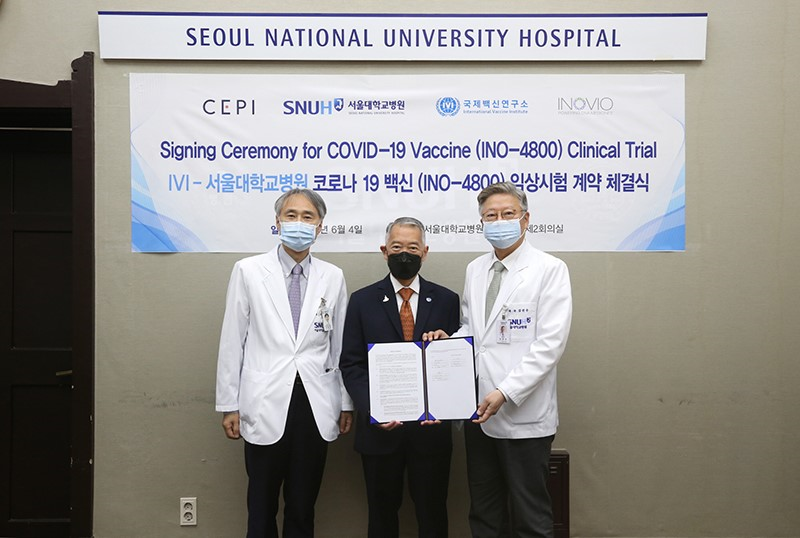 The trials, which are the first clinical studies for the Covid-19 vaccine approved in Korea, will assess the candidate vaccine's safety, tolerability, and immunogenicity. It will start by enrolling 40 healthy adults aged 19-50 years and expand the test to include an additional 120 people aged 19-64 years.
"In normal circumstances, it would generally take several years to start clinical trials of a new vaccine," the institute said. "Amid the Covid-19 pandemic, however, we can conduct the trial in Korea just two months after a similar clinical study began in the United States in April 2020, thanks to the support from the Ministry of Food and Drug Safety.
The ministry has announced a fast-track approval process for clinical trials of Covid-19 vaccines and therapeutics developed with a proven safety platform. The new regulation speeded up the clinical trial approval process using non-clinical and clinical data from existing DNA vaccine platforms.
"We are thrilled to start the clinical trials of a Covid-19 vaccine candidate in collaboration with SNUH," IVI Director-General Jerome Kim said on Thursday. "The trial is a crucial step toward developing an urgently needed Covid-19 vaccine."
Korea is one of the first countries in the world set to test a Covid-19 vaccine. IVI is happy to collaborate with Korean partners to accelerate clinical development of a Covid-19 vaccine through a partnership with Inovio and the Coalition for Epidemic Preparedness Innovation (CEPI), Kim added.
SNUH Professor Oh Myoung-don, the lead investigator of the study, also said, "Social distancing is making life difficult in many aspects of our society, including business, education, culture, sports, and international exchange, and we have reached a point where social distancing is not sustainable any longer."
The nation has to return to normalcy as early as possible, and today's launch of the vaccine clinical trial will provide significant momentum in easing fears over the pandemic, he added.
corea022@docdocdoc.co.kr
<© Korea Biomedical Review, All rights reserved.>
URL: http://www.koreabiomed.com/news/articleView.html?idxno=8425