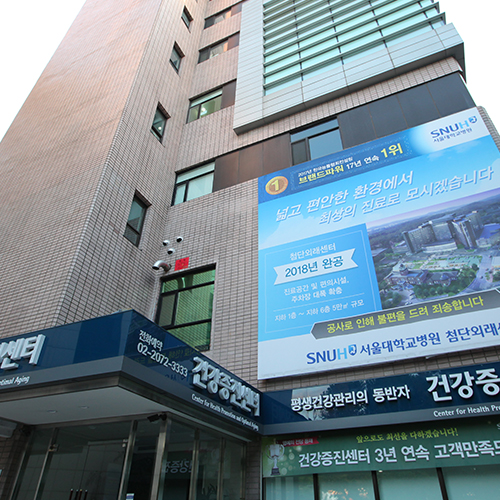 Since the establishment of the Health Promotion Center at Seoul National University Hospital in 1995, experienced faculty, with advanced equipment and facility, has strived to serve and promote the wellbeing of individuals.
Individualized health promotion and disease prevention are also promoted through a strategic health promotion program, optimized care service after examination, and continued care at specialized clinics.
Individualized Health Promotion Program
- Upon reservation and consulting with a well-trained coordinator, a 1:1 personalized program considering the individual's health status and risk factors is offered.
- For cancer survivors and those who are at risk for cardio/cerebrovascular disease, a 1:1 personalized program is offered.
- In order to optimize the health examination, medical staff provides a 1:1 specialized consulting on the day of, based on the individual's needs.
An Innovative and Specialized Program
- Specialized programs, considering the disease characteristic of Koreans and medical innovation, are offered to evaluate and consult for obesity, smoking cessation, aging, hazardous material exposure, nutrition, and exercise.
Exceptional Medical Staff and Advanced Equipment of Seoul National University Hospital
- Distinguished, experienced faculty and medical staff are involved in every step of the examination process, from result monitoring and evaluation to report construction 2-3 days prior to consultation.
- Advanced endoscopy, ultrasonography, CT, and MRI permit a more precise result.
A Systematic Care System
- Health problems detected from the health examination are consulted for, including aging, smoking, obesity, nutrition, cancer survivorship, women's health, and if necessary, approached in collaboration with other specialties.
Life-Long Attending Physician
- Family medicine faculty specialized in health promotion offer not only consultation of examination results but also to serve as a life-long attending physician, in promoting continuation of health care.
- The physician helps plan an annual health program, based on a comprehensive evaluation of the individual's past and present medical history.
Consultation and Reservation
- The Health Promotion Cancer at the Seoul National University Hospital operates by a reservation system and upon visit or call, a specialized coordinator offers a personalized health program.