The Department of Urology at Seoul National University Hospital, established for the first time in Korea in 1946, has provided the best medical treatment and research in Korea for various urinary diseases. Through the opening of the Cancer Research Center in 1983, the Cancer Research Center in 2000, and the Cancer Hospital in 2011, we have accumulated the most abundant medical experience and research results in Korea for urinary cancer. In particular, a systematic and professional consultation system has been established for complex, advanced, and metastatic urinary cancer.
A patient-friendly, patient-specific treatment system
The diagnosis and treatment of urinary cancer involves several steps. The urinary cancer center operates a counseling nurse system so that patients can receive help related to hospital visits and discharges, including medical care procedures. When visiting the hospital regularly after surgery, we try to minimize the hassle of multiple hospital visits by ensuring that you can receive treatment from as many medical departments in charge as possible on the same day.
Integrative Care by Top-notch Medical Staff
The Urinary Cancer Center discusses treatment policies according to the characteristics of each patient in various ways through organized cooperation with the medical staff of the Department of Urology, Hemato Oncology, Radiation Oncology, Radiology, Pathology, and Nuclear Medicine. Moreover, we provide patient-centered, personalized, and integrated care by implementing 'FIRST Collaborative Care,' where each department faculty and the nurses in charge gather together to meet patients once a week.
World-class Research-oriented Hospital
We conduct research activities such as executing dozens of government- and private- managed research and publishing research papers per year, and participate in international multicenter clinical trials for various immunotherapy and anticancer drugs. By participating in these international multicenter clinical trials of the Urinary Cancer Center, we are also providing opportunities to use new drugs for various patients.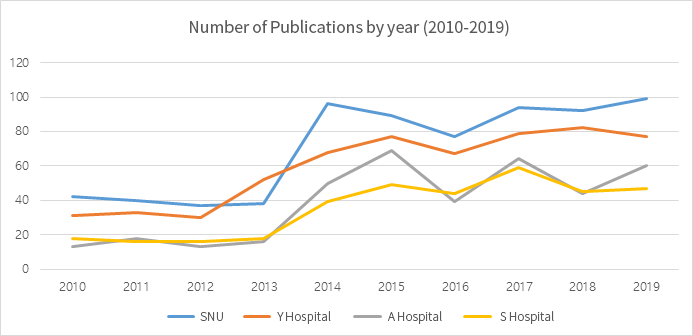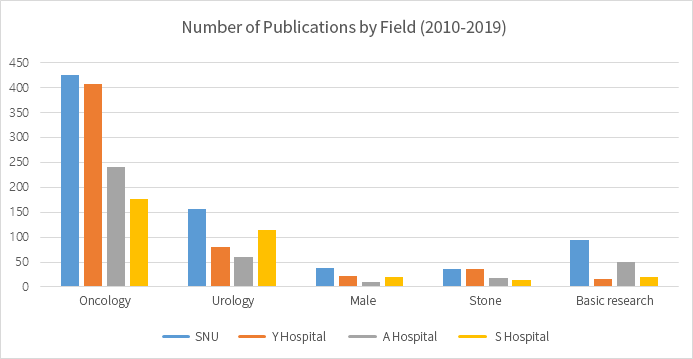 Medical Service using State-of-the-art Technology
Robotic surgery enables both wide and three-dimensional vision and precise surgery. Besides this, it has the advantage of improving surgical efficacy while minimizing sequelae and complications. The Urinary Cancer Center of Seoul National University Cancer Hospital applies robotic surgery to various cancers such as prostate cancer, kidney cancer, and bladder cancer.
Trustworthy Medical Staff and Standardized Cutting-edge Treatment
The Urinary Cancer Center has steadily performed many surgeries for various urological tumors such as prostate cancer, kidney cancer, bladder cancer, testicular cancer, and penile cancer for decades, and boasts long-accumulated know-how and excellent surgical results. Various surgical methods such as endoscopy, laparoscopy, single laparoscopy, and robotic surgery have been introduced and applied. Besides this, we performed single incision laparoscopic radical nephrectomy for kidney cancer for the first time in Korea, and also performed single incision laparoscopic nephrectomy for kidney cancer for the first time in the world. With long-term experience in cancer treatment, we are improving the quality of care and patient safety.
Current Status of Major Cancer Surgery
For most urinary cancer patients, precision medicine is implemented using the First Cancer Panel (a Cancer Gene Panel) and Syapse system. In the case of prostate cancer, more than 400 prostate cancer surgeries are performed annually, 82.5% by robotic surgery. The latest pelvic nerve monitoring devices and low heat pelvic surgical treatment are applied to preserve erectile function and prevent urinary incontinence. In the case of bladder cancer, 1,000 cases of surgery are performed annually, and more than 120 cases of radical cystectomy are performed per year. Of these, the rate of artificial bladders is 73.7%, and that of the urinary tract is 26.3%. Even in the second stage where partial resection is difficult, partial resection is performed at 23.9% for 2a (<10cm) and 13% for 2b (>10cm).